Crítica | Stranger Things 3
Terceira temporada tira o melhor resultado da mistura entre o fino da nostalgia com o frescor dos novos tempos de streaming
A primeira temporada de Stranger Things (2016 -) parecia ter sido só uma ótima cartada da Netflix, com sua tropa de crianças carismáticas e um aparato de referências que pegavam desavergonhada carona na indústria nostálgica dos anos 80. A Segunda Temporada, embora não tão redondinha quanto a primeira, alcança também um excelente resultado. Então a promessa para a Terceira dependia 1) da arriscadíssima megalomania de ameaças cada vez maiores vindas do Mundo Invertido – e 2) de uma corrida contra o tempo para que o crescimento do elenco não fosse tão gritante de uma temporada pra outra. Vai vendo.
O que se vê na Terceira Temporada é simplesmente o melhor resultado até aqui dessa receita que mistura o melhor da cultura pop dos anos 80 com o frescor dos novos tempos de streaming. As referências são um grande atrativo para o público mais maduro, mas é recompensador perceber como elas são justapostas de maneira orgânica na história, quase como se aqueles elementos fantásticos dos filmes oitentistas pertencessem à esfera do 'mundo real'. Mesmo os letreiros e pôsteres dispostos pelos episódios apenas para fins de contextualização são uma diversão extra e não surgem de maneira gratuita.
Mas o grande lance é conseguir replicar a atmosfera daquelas produções, algo que Stranger Things parece ter carta-branca pra usar como homenagem, citação ou apenas cópia mesmo. Como a incursão de um T-800 de Exterminador do Futuro (1984) ou os argumentos de Vampiros de Almas (1956), o flerte com o gore empacotado nos filmes de John Carpenter e aquele verniz de terror-pra-criança-ver que Spielberg produzia bem. Sem falar, óbvio, na paranoia da espionagem russa, uma herança da Guerra Fria que acabou criando raiz.
Juntar tudo isso pra chegar a um resultado estranhamente original é um mérito e tanto, sobretudo quando a série ainda é capaz de produzir uma iconografia instantaneamente pop como o desenho e as cores do "Starcourt Mall" e os figurinos icônicos como os marinheirinhos Steve e Robin (o cenário de cores saturadaças) a Erica toda trabalhada nos EPIs e, óbvio, a Eleven na vibe girls-just-wanna-have-fun.
E aí, vamos lá. O roteiro organizou o elenco em pequenos blocos que, aos poucos, se envolviam numa subtrama investigativa que fatalmente foi se revelando em peças de um quebra-cabeças enorme que levaria todos os personagens a se encontrarem no desfecho. UFA! A forma como a narrativa vai se afunilando ao longo dos episódios é brilhante, uma vez que cada uma dessas subtramas tem interesse próprio não apenas pelo mistério que imprimem, mas do ponto de vista do desenvolvimento dos personagens.
E a temporada investe pesado nisso. Desde o rocambole de emoções do universo adolescente (e é um acerto abraçar a idade do elenco ao invés de forçar uma infância que já tá partindo) passando pelo relacionamento entre pais e filhos e o cerco da falta de maturidade da qual nem mesmo adultos estão imunes. Entre o corre de ação e mistério, o texto ainda encontra tempo para umas pausas em forma de conversas muito boas, como aquela entre Steve e Robin no banheiro.
Por fim, a série é bem hábil em encontrar espaço para momentos de muita doçura, super bem localizados depois do sufoco – e deixar lacunas com a dose certa de ambiguidade para a próxima temporada. A gente sabe que parte do charme, para o bem ou para o mal, é não responder a todas as perguntas e não fazer sentido sempre. Seja como for, os irmãos Duffer parecem saber o tempo de parar. Confiemos.
Crítica | She-Ra e as Princesas do Poder (4ª Temp.)
Nova fase da animação revelou alguns segredos e prepara público para ponto de virada na série.
A Honra de GraySkull está mantida? Talvez. A resposta para a pergunta somente na próxima temporada de She-Ra e as Princesas do Poder em 2020. Um ano depois da estreia da série, a 4ª temporada (que estreou 5 de novembro) deixou um sentimento de "e agora?" muito forte durante o processo de introdução de novos elementos.
Ressalto aqui também que quem leu a review da temporada anterior pode perceber que acertei na teoria. A antiga She-Ra daria as caras (embora somente em flashbacks da Madame Rizzo) e a aparição do Rei Micah seria agora justo após a morte de Ângela (que agora tenho minhas dúvidas!). Micah apareceu, mas não como o Cavaleiro Vermelho, como é na trama original. Nem um demérito ao reboot por causa disso. Só na traição de Sombria que minha pergunta permanece no ar. Seguindo!
Das quatro temporadas apresentadas até aqui, a última é a mais intensa. O fato de voltar a ter 13 episódios ajudou bastante. Mais tempo de tela reforça a construção de todas as personagens: protagonistas, coadjuvantes e antagonistas.
Foi o que Noelle Stevenson fez com a sua equipe de roteiristas. Para esse review focaremos em um trio de personagens e um extra: Cintilante, Mara e Scorpia, além de Hordak.
A coroação da jovem Cintilante, após o sacrifício de Ângela, deveria ter amadurecido a personagem. Cintilante, ao meu ver, foi a quem menos evoluiu nesta temporada. Ou melhor, até tenha evoluído, mas em consequência o seu lado mimado acompanhou o processo. Sua compostura diante dos amigos e aliados revela muita insegurança. Normal, se considerarmos que agora como rainha ela não estava preparada para o papel e a perda da mãe. No entanto, seus atos desesperados forçaram toda Etheria conhecer um obstáculo bem mais difícil que Hordak e Felina.
Por outro lado, conhecemos Mara. Até então apenas citada ou em aparições rápidas, a personagem foi uma das protagonistas do episódio "Heroína" e nos ajudou a entender o que realmente estava se passando no planeta. A She-Ra anterior, que é um acréscimo bem válido à mitologia da franquia, resgata a personagem Mara com muito empenho e nos revela que os "Primeiros" (por que não Eternianos?) tem um propósito não tão nobre e abre espaço para novas apostas e teorias. Sua relação com a Esperança da Luz e Madame Rizzo chegam ao grau de melancolia na trama e dão o tom mais solene à temporada. Impossível não se identificar com ela.
Como já está bem claro, as chances de He-Man fazer ponta na série é mínima, quase zero, mas os elementos que o cercam não. Veremos na próxima fase o Castelo de GraySkull? A Espada do Poder? Ela, a espada, já existe ou será ainda criada? Essa última pergunta é um reboot de mais alto nível à mitologia e portanto pouco provável. O certo é que sabemos que Mara era dos Primeiros e eles serão o próximo foco da trama.
Das três personagens que destaco, Scorpia é quem mais curti na temporada (novamente me rendo ao seus pés garota!). O crescimento de sua personalidade, dado seu lado mais infantil, rendeu uma surpresa maravilhosa ao vermos ela compreendendo o quão tóxica é a figura da Felina. Parabéns Scorpia! E ela é tão amável! Mesmo reconhecendo a toxicidade da outra continua a amando (pode ser um ponto fraco dela, mas sem isso ela não seria a fofa que é). De quebra, não posso esquecer que acertei de novo aqui quando conjecturei que poderíamos vê-la com a Grande Rebelião. Mais um ponto para mim!
O extra pra essa review é Hordak. O lado passional do vilão nem de longe condiz com o bufão da série clássica e isso é maravilhoso. Sua melhor cena é aquela onde as lágrimas mistas de alegria pela não-traição de Entrapta e o ódio pelas mentiras de Felina ficam retidas sobre a face em poucos segundos. Mas não esqueçam: ele ainda é vilão!
Por fim, o que foi Double Trouble?! A nova personagem é o tipo de personagem que mais detesto. Contudo, o metamorfo foi o elemento mais significativo para todos os acontecimentos da temporada. Já espero mais canalhices. Sobre Double Trouble, é necessário dizer que sua introdução na trama, por parte de Noelle Stevenson, não é tão original assim como alguns sites anunciavam. Double Trouble já existia na franquia, mas apenas nos quadrinhos.
Antes chegou a ser a prima de Cintilante com altas habilidade de disfarce. Agora Noelle repagina a personagem dando-lhe um outra proposta e fazendo-o assumir características que acredito ser numa referência a uma personagem não-binária. O bônus aqui foi o fato dela representar em suas transformações outra personagem da franquia que ainda não havia aparecido: Flora, a princesa com asas de borboleta, embora ao que parece em apenas um fanservice. Assim como foi com Octavia, capitã das tropas navais da Horda, que também apareceu na série dos anos 1980.
She-Ra e as Princesas do Poder segue firme com uma trama convincente e equilibrada em drama, humor e fanservice (as referências a Vassorito, Corujito e Geninho me animaram). A chegada do Mestre da Horda revela que algo mais sombrio está por vir. Aviso que não acredito na Felina, logo aguardem mais atos egoístas dela.
Com a Espada da Proteção em frangalhos estamos sem She-Ra. Adora será capaz de restaurar a Honra de GraySkull? Esperemos.
Confira as reviews anteriores:
Crítica | Watchmen (piloto da série)
Derivado da famosa HQ, o piloto de Watchmen vai na onda de Coringa e entrega uma obra intensa e realista
O piloto de Watchmen termina e você entende exatamente qual é a proposta de Damon Lindelof: a fidelidade pelo conceito criado no universo da clássica HQ de Alan Moore e Dave Gibbons e promover uma trama envolta no mistério característico, marca registrada do diretor e roteirista, criador de Lost e The Leftovers.
De cara, vai chamar a atenção também o visual arrojado e a edição ousada, mas será na atualização relevante da narrativa – com comentários políticos e sociais diretos que podem ser lidos como críticas ao ultaconservadorismo atual – e a abordagem bastante realista a chave que atingirá mentes e corações. E, mesmo que a série se passe em uma realidade alternativa, assim como no filme de Zack Snyder, ela é muito mais semelhante à nossa.
Trinta anos após os eventos finais da HQ (e do filme), os vigilantes mascarados ainda estão nas ruas e ajudam a polícia. Eles são heróis anônimos, mas agora são pessoas comuns, que tem vidas normais, sem o culto de personalidade que outrora tinham Coruja, Comediante e Spectral. Os fãs certamente irão vibrar com a precisão dos detalhes e as referências – um tanto diferente da opção pela estilização do longa assinado por Snyder – onde está explícita a paixão de Lindelof pela obra de Alan Moore. Porém, aos não iniciados no universo da HQ, Watchmen também funciona muito bem como uma série derivada e independe, ainda que possam se sentir interessados a entender certas excentricidades.
Em um momento em que, as obras baseadas em quadrinhos podem entreter a partir de um novo conceito, embaladas pela visceralidade real de Coringa, Watchmen é brilhante na medida em que entrega uma experiência nessa mesma intensidade. Com momentos impactantes, ótimas atuações (Regina King, Jeremy Irons e Don Johnson excelentes) e elementos técnicos irrepreensíveis, a série da HBO sustenta uma história promissora cujo caminho ninguém faz ideia onde vai dar mas, de forma inteligente, instiga a pensar, mantendo a audiência interessada e atenta. 
Expectativa altíssima para os próximos 8 episódios.
Crítica | (Des)encanto – 2ª temporada
Quando a primeira temporada de (Des)encanto chegou à Netflix, o hype e a ansiedade atingiram níveis gigantescos. Primeiro, porque se tratava da nova animação de Matt Groening – o criador de Os Simpsons e Futurama – segundo porque o novo universo, um reino místico cuja protagonista era uma princesa má educada e beberrona, parecia promissor para os que adoram um humor ácido e adulto. Dito e feito. A primeira temporada, apesar de alguma inconsistência na narrativa, conseguiu entregar exatamente o que os fãs queriam: irreverência e boas piadas.
Com a chegada da segunda temporada, era preciso reconectar o público depois de um final curioso, porém um pouco mais dramático do que aquele tom de descaso inicial dos primeiros episódios. Mais do que isso: como retomar aquela maravilhosa química entre o trio de protagonistas? Sem muita surpresa, os primeiros episódios já respondem as pontas soltas e amarra tudo já logo nos dois primeiros capítulos. E a química volta lindamente. É visível, inclusive, que prevalecerá no desenrolar da história uma condução mais confortável e pé no chão, porém não menos descontraída.
No decorrer da série é possível notar que, nessa temporada, há uma menor predisposição de dialogar apenas com a fantasia. Apesar de ainda beber nessa fonte, há boas referências de outros gêneros que intensificam novas boas ideias como, por exemplo, alguns óbvios paralelos com Game of Thrones. Embora isso não signifique que mantenha-se engajada naquele discurso (interessantíssimo) de como a sociedade medieval se assemelha ao nosso atual modelo de política – democrática, porém cruel para os que não se encaixam nos padrões de normalidade.
O visual continua sendo uma delícia. Tanto a iluminação quanto o sombreamento distribuem bem a atenção, seja nos momentos de ação ou nos de mais calmaria. E o toque de mestre são as sutilezas digitais que se somam ao estilo tradicional das animações de Matt Groening.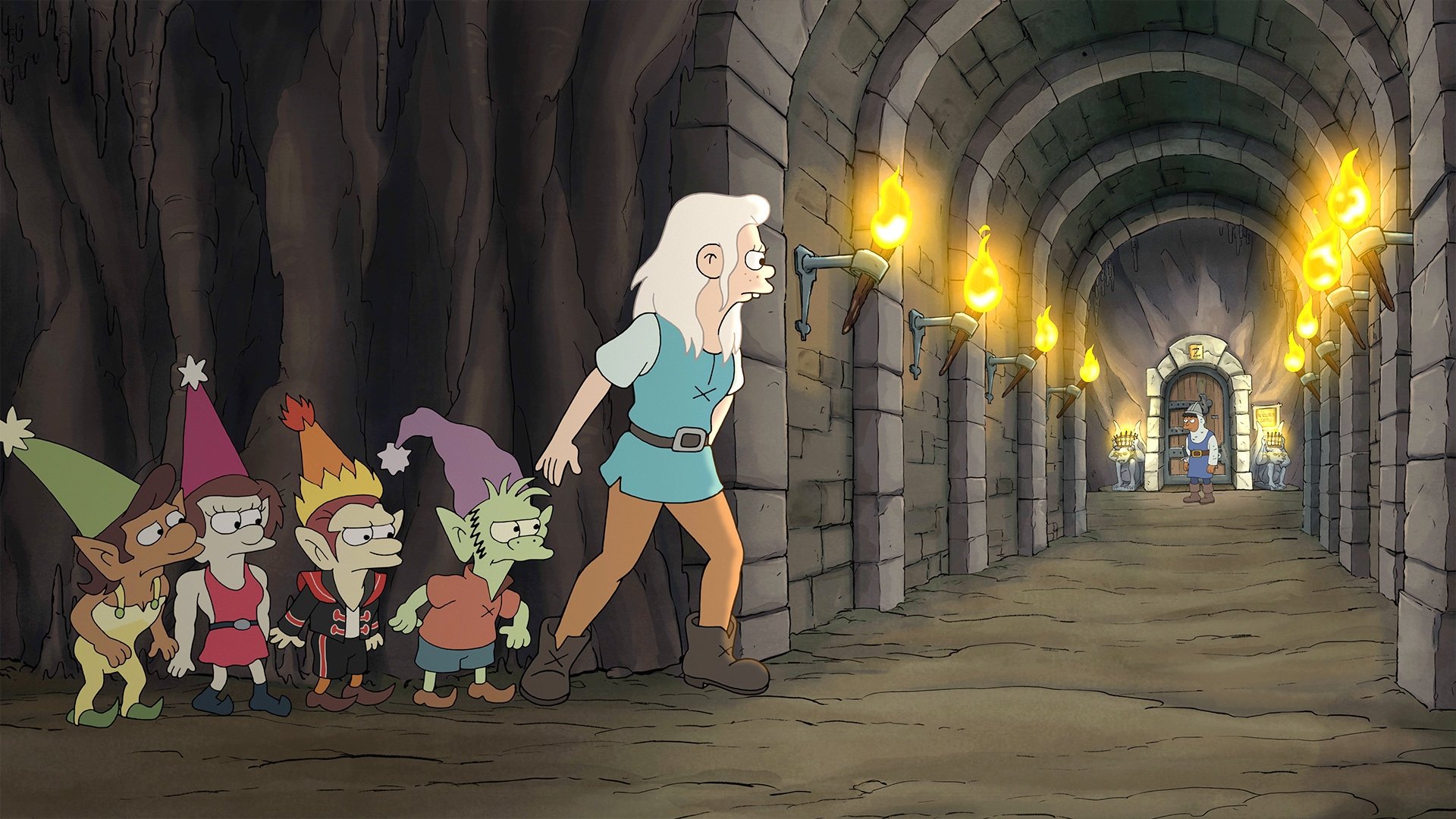 A parte não tão legal é uma menor inserção de memes nos diálogos da versão dublada, coisa que a primeira temporada deitou e abusou de forma criativa e inteligente. Mesmo assim, o humor nessa segunda temporada parece se encaixar de uma maneira mais natural, até porque as características dos personagens já foram exploradas e a graça agora é, justamente, ver como eles reagem em situações que exigem uma maior intimidade entre si.
E como a terceira temporada já está confirmada, a tendência é que (Des)encanto siga com sua faceta insana, mas bem mais espontânea e que, assim como em Os Simpsons e Futurama, nesse ritmo, possam ter episódios que funcionem bem de forma isolada.