Vem ver as primeiras fotos oficiais de Disjointed
Comédia da Netflix será protagonizada por Kathy Bates.
Disjointed, nova série da Netflix, teve suas primeiras imagens reveladas nesta terça-feira. Nas fotos, temos Kathy Bates com um estilo meio hippie, acompanhada pelos outros personagens, todos bastante caricatos. O que não faltam são referências ao uso da cannabis.
A comédia é criação de Chuck Lorre, conhecido por Two And a Half Man e The Big Bang Theory. Kathy Bates interpreta Ruth Feldman, a dona de um dispensário de maconha em Los Angeles. No elenco também temos Aaron Motem, Dougie Baldwin e Elizabeth Alderfer. A série estreia dia 25 de agosto.
Confira as fotos abaixo.
Crítica | (Des)encanto – 2ª temporada
Quando a primeira temporada de (Des)encanto chegou à Netflix, o hype e a ansiedade atingiram níveis gigantescos. Primeiro, porque se tratava da nova animação de Matt Groening – o criador de Os Simpsons e Futurama – segundo porque o novo universo, um reino místico cuja protagonista era uma princesa má educada e beberrona, parecia promissor para os que adoram um humor ácido e adulto. Dito e feito. A primeira temporada, apesar de alguma inconsistência na narrativa, conseguiu entregar exatamente o que os fãs queriam: irreverência e boas piadas.
Com a chegada da segunda temporada, era preciso reconectar o público depois de um final curioso, porém um pouco mais dramático do que aquele tom de descaso inicial dos primeiros episódios. Mais do que isso: como retomar aquela maravilhosa química entre o trio de protagonistas? Sem muita surpresa, os primeiros episódios já respondem as pontas soltas e amarra tudo já logo nos dois primeiros capítulos. E a química volta lindamente. É visível, inclusive, que prevalecerá no desenrolar da história uma condução mais confortável e pé no chão, porém não menos descontraída.
No decorrer da série é possível notar que, nessa temporada, há uma menor predisposição de dialogar apenas com a fantasia. Apesar de ainda beber nessa fonte, há boas referências de outros gêneros que intensificam novas boas ideias como, por exemplo, alguns óbvios paralelos com Game of Thrones. Embora isso não signifique que mantenha-se engajada naquele discurso (interessantíssimo) de como a sociedade medieval se assemelha ao nosso atual modelo de política – democrática, porém cruel para os que não se encaixam nos padrões de normalidade.
O visual continua sendo uma delícia. Tanto a iluminação quanto o sombreamento distribuem bem a atenção, seja nos momentos de ação ou nos de mais calmaria. E o toque de mestre são as sutilezas digitais que se somam ao estilo tradicional das animações de Matt Groening.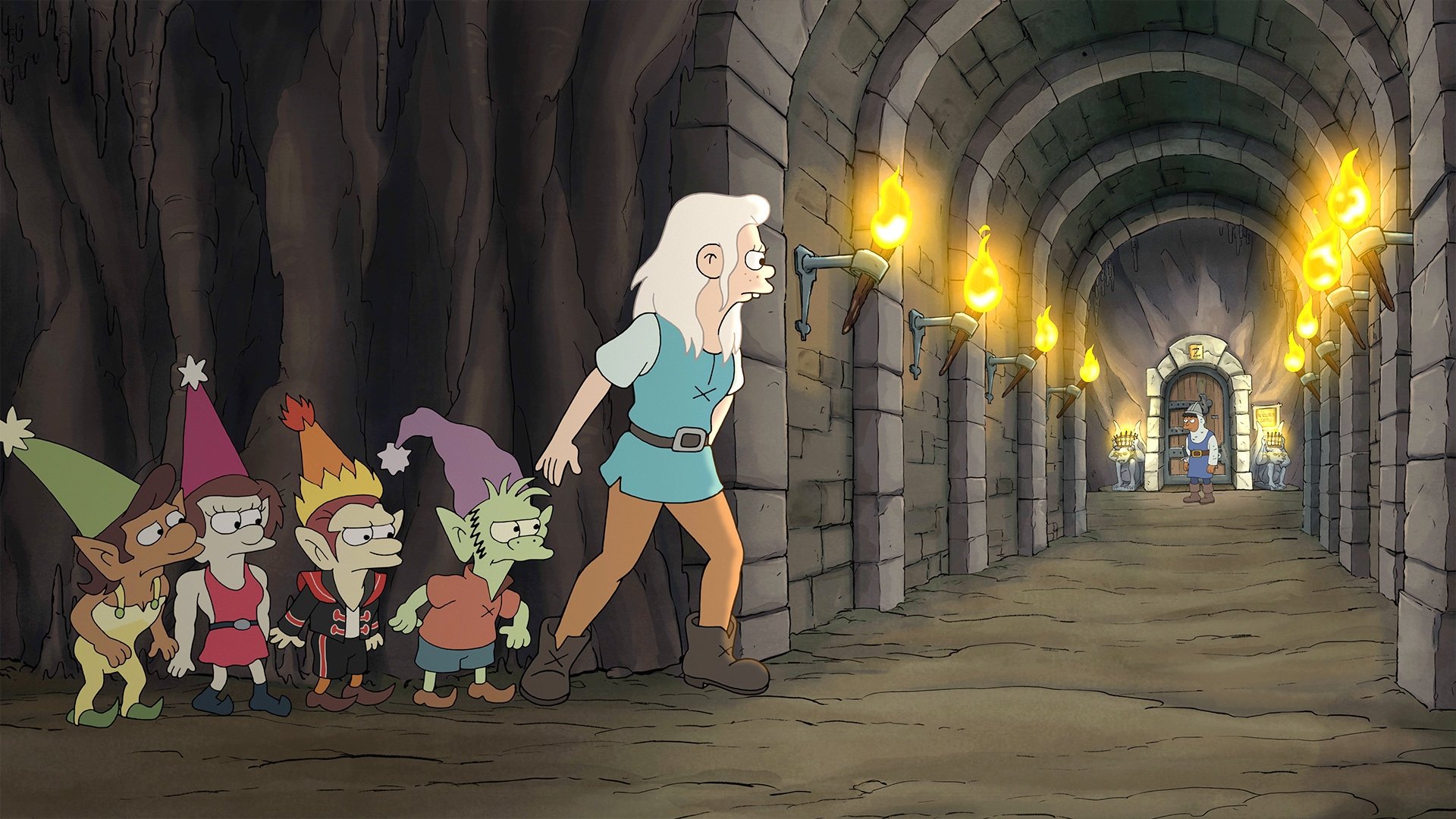 A parte não tão legal é uma menor inserção de memes nos diálogos da versão dublada, coisa que a primeira temporada deitou e abusou de forma criativa e inteligente. Mesmo assim, o humor nessa segunda temporada parece se encaixar de uma maneira mais natural, até porque as características dos personagens já foram exploradas e a graça agora é, justamente, ver como eles reagem em situações que exigem uma maior intimidade entre si.
E como a terceira temporada já está confirmada, a tendência é que (Des)encanto siga com sua faceta insana, mas bem mais espontânea e que, assim como em Os Simpsons e Futurama, nesse ritmo, possam ter episódios que funcionem bem de forma isolada.
Relação entre Margaret Atwood e série The Handmaid's Tale é pura simbiose
Ao ler The Testaments, o novo livro de Margaret Atowood, onde a escritora volta a explorar o regime fundamentalista totalitário protestante de Gilead, após ter visto toda a terceira temporada de The Handmaid's Tale, série do Hulu que adapta o romance homônimo publicado em 1985, torna-se perceptível que a mão da canadense ainda é tão presente na narrativa derivada já tão distante do original, quanto era na primeira temporada, com cenas retiradas do livro.
Mas Atwood e sua relação com The Handmaid's Tale é algo de fresco na dança entre romancistas e as dramatizações de seus livros, precisamente quando se trata de ficção especulativa, indo muito além da ocasional participação especial. A escritora da liberdade e se inspira na obra derivada. É um ciclo completo como raras vezes se vê.
Em sua mais recente edição, a revista The Gentlewoman traz uma extensa entrevista com Margaret Atwood, que estampa a capa, onde são abordados inúmeros temas concernentes à vida e carreira da escritora octogenária. Em dois parágrafos há um isight sobre como se dá a relação simbiotica entre criador e criatura: Atwood orientou Bruce Miller,showrunner e principal roteirista de The Handmaid's Tale, enquanto escrevia seu novo livro, e levou aspectos da série para dentro de seu novo testamento.
Diferente de quando uma obra derivada expande o texto, ou o surpassa, o trabalho foi simultâneo. Mas diferente de escritores mão de ferrro, Miller teve liberdade em explorar as linhas gerais que lhe foram dadas. Pelo menos na maior parte.
O nome de Nicole, segunda filha de June foi uma exigência inegociável de Atwood, assim como também a salvaguarda da vida de alguns personagens, não expecificados na entrevista. "Eu disse que tinha que ser Nicole", certificou a escritora.
Das telas, Atwood tomou grande inspiração na performace de Ann Dowd como Aunt Lydia para dar mais profundidade à personagem. É em grande parte pelo excelente trabalho de Dowd como a matriarca das Tias que Lydia ganhou um episódio com seu passado na tv e o poder de narradora em The Testaments. Para os leitores dos dois livros e expectadores da série, é possível perceber exatamente até onde vai a mão de Atwood e onde começa a liberdade de Miller. Um balanço perfeito, mesmo quem não concorda com interferências de autores em projetos derivados, como eu, deve concordar.
"Fui inspirada pela performace de Ann Dowd, que deu à Aunt Lydia mais dimensões que ela tinha no livro original", contou Atwood. Dowd inclusive foi chamada para reprisar a personaem no audiobook do novo romance profético.
The Testaments foi lançado – com toda pompa de um prestigiado romance literário encontrando o frisson de uma saga popular – no último dia 10 de setembro, após um ferrenho esquema de segurança e confidencialidade para manter a surpresa, é um dos favoritos para ganhar o Booker Prize 2019 e já best-seller em todo o mundo.
Tayna Abreu é jornalista de entretenimento e também fala sobre ficção especulativa em seu IGTV @oftay_
Fire & Blood | Como será o novo spinoff de Game of Thrones
Segundo a imprensa americana, a HBO teria dado sinal verde para mais um spinoff de Game of Thrones, desta vez focado na Casa Targaryen, os ancestrais de Daenerys. Apesar de não haver ainda confirmação oficial da emissora, as informações dão conta de que o spinoff contará a história de três séculos da Dinastia Targaryen, com criação de George R R Martin, o pai do Mundo de Gelo e Fogo, e Ryan Condal.

A editora de TV do Deadline, Nellie Andreeva, escreveu que a nova produção terá roteiro de Condal, e que não é um sexto spinoff, um a mais que a quantidade que já havia sido anunciada pela HBO, mas uma nova roupagem em um que já estava sendo desenvolvido pelo roteirista Bryan Cogman, cujo trabalho foi essencial em Game of Thrones, antes de ser reprovado por David Benioff e DB Weiss, showrunner da série mãe, e Cogman ir trabalhar em Senhor dos Anéis da Amazon. O que parece é que com Benioff, Weiss e Cogman fora da HBO, a casa resolveu pegar o projeto do lixo e dar uma olhada com mais carinho.

Em maio, Martin disse que três dos cinco spinoff estão em produção ou pré-produção e que tudo está indo bem. O primeiro deles, Bloodmoon, estrelado por Naomi Campbell, teve o piloto finalizado ainda em agosto e está sob avaliação da chefia de séries.

Bom, o novo spinoff, será baseado na duologia Fire & Blood, cujo primeiro tomo foi publicado por Martin em 2018 e possivelmente será batizado como homônimo da fonte, que já carrega toda a simbologia e poder sonoro necessários para condensar o reinado dos dragões.

Fire & Blood é uma narrativa extensa e que mímica a forma clássica de contar a História das Elites, passando pelos 300 anos de reinado dos Targaryen em Westeros, começando com a Conquista de Aegon e suas irmãs/esposas e terminando, no segundo volume ainda não publicado, com o golpe da aliança Stark-Baratheon-Arryn que destronou o Rei Louco Aerys e levou à morte do príncipe herdeiro Rhaegar na Batalha do Tridente, de onde Robert Baratheon saiu vitorioso, com o assento no Trono de Ferro e a mão de Cersei Lannister, filha do último Lorde a entrar na aliança que traiu os Targaryen.
No meio desses dois eventos, uma procissão de reis de nome repetido, muito incesto, loucura, eugenia e racismo; um reino por vezes em paz e em muitas delas sangrando. Alguns reis inúteis, outros memoráveis por serem também cruéis, roubo de ovos de dragão, um desafio à Teologia de Exceção – criada para legitimar o poder Targaryen mesmo na Fé dos Sete – e duas guerras civis que racharam a casa e dizimaram seus dragões.

Mas quais são os eventos com mais chances de serem retratados na série? Bom, primeiro é preciso considerar que esse, como todos os outros spinoff de GoT, não deverão ter muitas temporadas, talvez apenas uma ou duas, a depender a extensão dos eventos e da forma como serão contados.

Pelo menos cinco grandes eventos podem- e devem – ser recortados, e se divididos em uma série de 10 episódios de uma hora cada, poderão ter o tratamento de filmes de duas horas, o que pode ser um ótimo tempo para contar cada um, ainda que não de forma minuciosa.

A conquista de Aegon, sem dúvida alguma, é o lugar para começar. O momento em que o dragão ousou sair de seu pequeno domínio insular em Pedra do Dragão e dominar o continente de Westeros, comportando ainda as Guerras de Conquista de Dorne, o reino que jamais se entregou, mas que foi anexado por casamento.

O segundo grande momento é um dos mais famosos, e dá nome também ao quinto, e até agora último livro publicado nas Crônicas de Gelo e Fogo, a Dança dos Dragões, a primeira guerra civil que manchou a terra e os ares com sangue de dragões das duas espécies.

As Rebeliões Blackfyre são um terceiro grande momento da história da Casa Targaryen, onde a própria legitimidade dos reis de cabelos prata foi desafiada por seus irmãos e primos bastardos.

A Tragédia de Solarestival é o próximo evento importante, se não pela duração, mas pelas consequências diretas e indiretas, tanto materiais quanto na formação do comportamento de um dos príncipes Targaryen mais famosos.

Por último, a queda dos Senhores de Dragões no golpe de estado dado pela aliança de casas vassalas, conhecida como a Rebelião de Robert, ou a Guerra do Usurpador, com sua última e mais famosa batalha deixando rubis da armadura e das veias de Rhaegar Targaryen por todo o Tridente. 
Tayna Abreu é jornalista de entretenimento e também fala sobre ficção especulativa em seu IGTV @oftay_